Dental & Vision Insurance
Ulness Health Helps You Find the Perfect Dental & Vision Plans for Your Needs
GET A QUOTE & ENROLL: Click on any of the plans below to get a quote and enroll today!
UNDERSTANDING DENTAL INSURANCE: COVERAGE AND BENEFITS
Dental insurance is designed to help you manage the costs of maintaining good oral health. It typically covers a wide range of dental care services, making it easier and more affordable for you and your family to access essential dental treatments. Most dental insurance plans follow a "100-80-50" coverage structure, which includes:
Preventive Care (100% coverage): Preventive care services, such as regular checkups, cleanings, and X-rays, are usually covered at 100%. This means that you don't have to pay out-of-pocket for these essential services, encouraging you to maintain a regular schedule of dental visits.
Basic Procedures (80% coverage): Basic dental procedures, such as fillings, extractions, and periodontal treatments, are typically covered at 80%. This level of coverage allows you to address minor dental issues promptly, without incurring high out-of-pocket expenses.
Major Procedures (50% coverage): Major dental procedures, like crowns, bridges, and root canals, are generally covered at 50%. While the out-of-pocket costs for these treatments can be higher, having dental insurance can still help you save a significant amount on these more extensive procedures.
It's important to note that dental insurance plans may have annual maximums, deductibles, and waiting periods. The annual maximum is the total amount the insurance company will pay for your dental care within a year, while the deductible is the amount you need to pay before your insurance starts covering your dental expenses. Waiting periods are applicable for certain treatments, meaning you'll have to wait a specified time after enrolling in the plan before you can receive coverage for those procedures. The benefits above are only an example. Thoroughly review the plan before enrolling.
By understanding the coverage and benefits of dental insurance, you can make an informed decision on the best plan for your oral health needs. Ulness Health agents are available to help you compare different dental insurance options and guide you through the process of selecting a plan that meets your requirements and budget.
Insurance can be complicated! Let our team of insurance experts help find the best plan for you.
HOW TO SELECT THE RIGHT DENTAL PLAN FOR YOU AND YOUR FAMILY
Choosing the right dental plan for you and your family is crucial in ensuring that everyone receives the necessary dental care to maintain good oral health. When evaluating different dental insurance plans, consider the following factors to make the best decision for your family's needs and budget:
Coverage Levels: Review the coverage levels provided by each plan, including preventive care, basic procedures, and major procedures. It's essential to choose a plan that offers comprehensive coverage for the services that your family is most likely to need.
Network of Dentists: Before selecting a dental plan, consider the network of participating dentists. Some plans may require you to visit in-network dentists to receive coverage, while others may allow for out-of-network visits with higher out-of-pocket costs. Make sure the plan you choose includes a wide range of quality dental providers in your area.
Annual Maximums and Deductibles: Pay attention to the annual maximums and deductibles associated with each plan. Opt for a plan that strikes a balance between providing ample coverage and keeping out-of-pocket expenses manageable.
Waiting Periods: Some dental insurance plans have waiting periods for certain procedures, meaning you may need to wait a specified time after enrolling before you can receive coverage for those treatments. Consider selecting a plan with minimal waiting periods or one that offers immediate coverage for the services your family requires.
Family and Individual Plans: Depending on the size and oral health needs of your family, you may want to explore both individual and family dental insurance plans. Family plans typically offer more comprehensive coverage, but it's essential to assess whether an individual plan might better suit your specific situation.
At Ulness Health, our experienced agents are ready to help you navigate the process of selecting the right dental plan for you and your family. We'll work with you to understand your unique needs, evaluate different plan options, and find the coverage that aligns with your budget and oral health requirements.
Still have more questions?
KEY FEATURES OF VISION INSURANCE PLANS
Vision insurance plans are designed to help you manage the costs of eye care services and products, ensuring that you and your family maintain optimal eye health. When exploring vision insurance options, it's essential to understand the key features that contribute to comprehensive coverage. These include:
Routine Eye Exams: Regular eye exams are crucial for maintaining good eye health and detecting any potential vision issues early on. Most vision insurance plans cover one or two eye exams per year, helping you stay on top of your eye care without incurring out-of-pocket costs.
Prescription Eyewear: Vision insurance typically includes coverage for prescription eyeglasses and contact lenses, often providing an allowance to be used towards these products. Depending on the plan, you may receive a yearly or bi-yearly allowance that can be applied to the purchase of prescription eyewear from in-network providers.
Lens Options and Add-ons: Many vision insurance plans offer coverage for various lens options and add-ons, such as anti-reflective coatings, scratch-resistant coatings, or progressive lenses. Review the specific coverage details for these enhancements when selecting a plan to ensure you get the most value from your policy.
Discounts on Specialty Services: Some vision insurance plans provide discounts on specialty eye care services, like LASIK surgery or orthokeratology. If you or a family member are interested in these procedures, consider choosing a plan that includes discounts for such services.
In-network Providers: Vision insurance plans usually have a network of participating eye care professionals, including optometrists, ophthalmologists, and opticians. Be sure to review the list of in-network providers in your area when selecting a plan, and make sure your preferred eye care professional is included.
When choosing a vision insurance plan, it's essential to consider the key features that best align with your eye care needs and preferences. Ulness Health's experienced agents can help you evaluate various plan options, guiding you through the process of finding the ideal vision insurance coverage for you and your family.
Insurance can be complicated! Let our team of insurance experts help find the best plan for you.
WHY CHOOSE ULNESS HEALTH FOR YOUR DENTAL & VISION INSURANCE NEEDS
At Ulness Health, we understand that choosing the right dental and vision insurance plans can be a complex and time-consuming process. Our experienced and dedicated agents are committed to making this journey easier for you, providing personalized guidance and support every step of the way. Here's why you should choose Ulness Health for your dental and vision insurance needs:
Expertise: With years of industry experience, our knowledgeable agents possess the expertise to navigate the dental and vision insurance market. We stay updated on the latest trends and options, ensuring that you receive accurate and relevant information to make informed decisions about your insurance coverage.
Personalized Approach: We take the time to understand your unique needs and preferences, offering customized recommendations tailored to your specific situation. Our goal is to help you find the dental and vision insurance plans that provide the best coverage, while fitting comfortably within your budget.
Trusted Partnerships: Ulness Health collaborates with a wide range of reputable dental and vision insurance providers, giving you access to a diverse array of high-quality plan options. Our strong partnerships with these carriers ensure that you receive comprehensive coverage and competitive rates.
Ongoing Support: Our commitment to your satisfaction doesn't end when you enroll in a dental or vision insurance plan. We're here to provide ongoing support, answering any questions and addressing concerns that may arise during the course of your coverage. With Ulness Health, you can count on a reliable partner to help you manage your dental and vision insurance needs.
Hassle-Free Experience: We strive to make the insurance selection process as simple and efficient as possible. From comparing plan options to understanding the fine print, our agents will guide you through every step, ensuring a hassle-free experience that allows you to focus on maintaining your family's oral and eye health.
Choose Ulness Health for your dental and vision insurance needs and enjoy the peace of mind that comes from knowing you're in capable and caring hands. Contact us today to begin your journey towards finding the right plan for you and your family.
Still have more questions?
SCHEDULE A 1-ON-1 MEETING
Ulness Health Insurance Agents are your local dental & vision insurance experts serving Appleton, Neenah, Menasha, and the rest of the Fox Cities. Our team provides free, personalized consultations year-round to help you understand and choose the right plan for your needs and budget. Contact us today to schedule your one-on-one meeting and get started on the path to affordable, comprehensive coverage.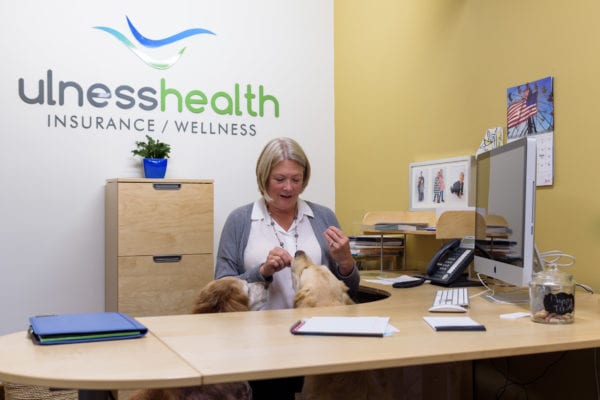 Simply fill out the form below, and we'll get in touch.