Ulness Health helps residents of Wisconsin & Minnesota enroll in HealthCare.gov Marketplace Health Insurance
Contact us to get a quote!
To get a quote contact us!
UNDERSTANDING AFFORDABLE CARE ACT HEALTH INSURANCE
Health insurance plans offered through the Affordable Care Act (ACA) exchange, sometimes known as "Obamacare," are available on the federal HealthCare.gov Marketplace. Designed to provide comprehensive coverage for individuals and families not eligible for Medicare or employer-based group insurance, the ACA Marketplace simplifies the process of purchasing health insurance, offering a diverse array of options to accommodate various needs and budgets.
The ACA health insurance plans available on the Marketplace are required to offer essential health benefits, such as preventive services, prescription drug coverage, and hospitalization. In addition, Marketplace plans cannot deny coverage or charge higher premiums based on pre-existing conditions.
If you're considering an Obamacare health insurance plan, it's important to understand your options and how the plans work. Our team of local health insurance agents is here to guide you through the process and help you find a plan that meets your unique healthcare needs and budget. Contact us today to schedule a free, no-obligation consultation.
HEALTH INSURANCE OPTIONS ON THE MARKETPLACE
Navigating the HealthCare.gov Marketplace can be challenging, but at Ulness Health, we're here to help you understand your options and choose the best health insurance plan for your needs. The Marketplace offers a wide range of health insurance plans from various carriers, ensuring that everyone has access to affordable and comprehensive coverage.
There are four main categories of Marketplace plans, also known as "metal" levels, which include:
Bronze: These plans typically have lower monthly premiums but higher costs when you access healthcare services. They're ideal for individuals who don't expect to use medical services frequently and want to keep their monthly expenses low.
Silver: Silver plans strike a balance between monthly premium costs and out-of-pocket expenses. These plans are suitable for individuals and families who need regular access to healthcare services but want to keep their premiums reasonably affordable.
Gold: With higher monthly premiums and lower out-of-pocket costs, Gold plans are best suited for those who anticipate using healthcare services more frequently or have ongoing medical conditions that require regular care.
Platinum: The highest level of coverage available on the Marketplace, Platinum plans have the highest monthly premiums but the lowest out-of-pocket costs. These plans are ideal for individuals with significant medical needs or those who prefer the peace of mind that comes with comprehensive coverage.
At Ulness Health, our team of experienced health insurance agents can guide you through the process of comparing and selecting a Marketplace plan that best fits your needs and budget. We're here to answer all your questions and provide personalized assistance every step of the way. Contact us today to get started on finding the perfect health insurance plan for you and your family.
HEALTH INSURANCE TAX CREDITS & COST-SHARING REDUCTIONS
The cost of health insurance can be a significant burden for many individuals and families. Fortunately, there are tax credits and cost share reductions available to help make health insurance more affordable for those who qualify.
TAX CREDITS
Advanced Premium Tax Credits are financial assistance from the government that help to lower the cost of health insurance premiums. To be eligible for tax credits, individuals and families must meet certain income requirements and must purchase their health insurance through the Health Insurance Marketplace. The amount of the subsidy or tax credit varies based on income, family size, and the cost of health insurance in the individual's or family's area. It's important to note that tax credits can change from year to year based on changes in income, family size, and the cost of health insurance.
COST-SHARE REDUCTIONS
Cost-sharing reductions are a type of financial assistance that helps reduce your out-of-pocket costs for health care services. If you qualify for cost-sharing reductions, you'll have lower copayments, coinsurance, and deductibles when you use your health insurance. Cost-sharing reductions are only available to people who enroll in a Silver plan through the Health Insurance Marketplace and who also have a household income between 100% and 250% of the federal poverty level. The amount of cost-sharing reduction you receive depends on your income level and family size.
If you're unsure if you qualify for tax credits or cost-share reductions, or if you need help applying for assistance, our health insurance agents are here to help. We can help you understand your options and guide you through the application process to ensure you're receiving all the assistance you're eligible for.
Still have more questions?
WE'RE HERE TO HELP WITH HEALTH INSURANCE!
A local health insurance agent can be a valuable resource when it comes to enrolling in Obamacare coverage. We can help you navigate the complex process of choosing a health plan that fits your needs and budget, as well as guide you through the enrollment process from start to finish.
Here are some of the specific ways Ulness Health Insurance Agents can assist you:
Provide personalized guidance: An Ulness Health health insurance agent will assess your individual health care needs and budget to recommend a plan that meets your specific needs. We can also provide you with information on the different types of plans available, including HMOs, PPOs, and POS plans, and help you understand the differences between them.
Help you understand tax credits and cost-share reductions: An Ulness Health insurance agent can help you understand if you're eligible for subsidies and tax credits, and how much you could save on your health insurance premiums.
Assist with enrollment: An Ulness Health insurance agent can assist with the entire enrollment process, from filling out the application to selecting a plan and submitting the necessary documents. We can also help you navigate any issues that may arise during the enrollment process.
Provide ongoing support: A local health insurance agent can continue to provide support even after you've enrolled in a plan. We can answer any questions you may have about your plan and help you with any issues that may arise.
Working with a local health insurance agent can make the enrollment process smoother and less stressful. We can provide valuable guidance and support, helping you make informed decisions about your health care coverage.
SCHEDULE A 1-ON-1 MEETING
Ulness Health Insurance Agents are your local health insurance experts serving Appleton, Neenah, Menasha, and the rest of the Fox Cities. Our team provides free, personalized consultations year-round to help you understand and choose the right plan for your needs and budget. Contact us today to schedule your one-on-one meeting and get started on the path to affordable, comprehensive coverage.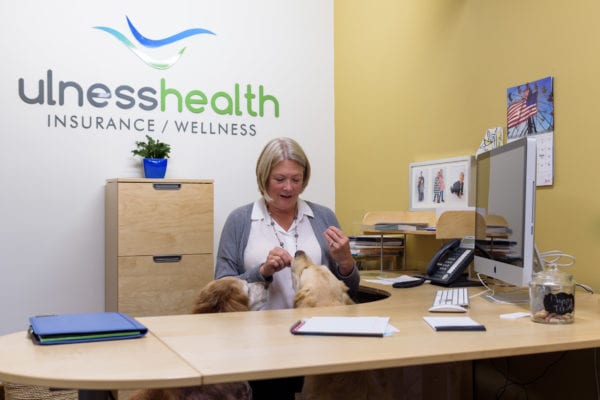 Simply fill out the form below, and we'll get in touch.