A Comprehensive Guide to Your Medicare Card: What You Need to Know
THE IMPORTANCE OF YOUR MEDICARE CARD
Your Medicare card is an important document, as it serves as proof of your enrollment in the Medicare program. It contains crucial information, including your name, your Medicare Beneficiary Identifier (MBI), and the effective dates of your Medicare Part A and Part B coverage. The MBI is a unique, 11-character alphanumeric code assigned to each Medicare beneficiary. You will need to have your Medicare card before you can enroll in a Medicare Supplement or Medicare Advantage plan. Read on to find out more about your Medicare card and how you can use it.
The history of the Medicare card dates back to 1966 when the Medicare program was first introduced under President Lyndon B. Johnson as a means to provide healthcare coverage for seniors aged 65 and older. The original Medicare cards were designed to be simple, displaying basic information such as the beneficiary's name, Social Security number, and the effective date of their Medicare coverage. For decades, the design of the card remained largely unchanged, serving as a critical identification tool for seniors to access healthcare services.
In recent years, however, concerns about identity theft and fraud prompted a major redesign of the Medicare card. In April 2018, the Centers for Medicare & Medicaid Services (CMS) began issuing new Medicare cards featuring a unique, randomly-generated Medicare Beneficiary Identifier (MBI) in place of the Social Security number. This change aimed to protect the personal information of Medicare beneficiaries and reduce the risk of identity theft. The new cards also feature a more modern design, with clear information about the beneficiary's Medicare coverage, including Part A and Part B effective dates. Over time, the Medicare card has evolved to better serve its purpose, adapting to changing needs and providing greater security for its users.
HOW TO GET YOUR MEDICARE CARD: ENROLLMENT PROCESS & TIMELINES
When you first enroll in Medicare, either through automatic enrollment or by manually signing up, you will receive your Medicare card in the mail. Automatic enrollment typically occurs when you turn 65 if you are already receiving Social Security benefits. Otherwise, you can sign up for Medicare during your Initial Enrollment Period, which starts three months before the month you turn 65 and ends three months after your birthday month. After your enrollment is processed, your Medicare card will be mailed to you, usually within 30 days. Make sure to keep your mailing address up to date with the Social Security Administration to receive your card promptly.
Still have more questions?
USING YOUR MEDICARE CARD: WHERE AND WHEN TO PRESENT IT
Whether you will need to show your Medicare card when you go to the doctor depends on the type of Medicare health plan you have:
If you have so-called "Original Medicare" (Parts A & B) with a Medicare Supplement and a Prescription Drug plan, then you will need to show both your Medicare card and Medicare Supplement card when you visit the doctor. Show your Prescription Drug Plan card when you go to the Pharmacy.
If you have a Medicare Advantage plan, then you will only need to show your Medicare Advantage card when you visit the doctor. Since you won't need your your Medicare card when you go to the doctor, it should be filed away in a safe place. When you go to the pharmacy, you will also show your Medicare Advantage plan card.
PROTECTING YOUR MEDICARE CARD: TIPS TO PREVENT IDENTITY THEFT AND FRAUD
To keep your Medicare card and personal information secure, it's crucial to take steps to prevent identity theft and fraud. Store your card in a safe place and only carry it when you know you'll need it for medical appointments. Be cautious about sharing your Medicare card information and only provide it to healthcare professionals or authorized individuals. Additionally, be wary of unsolicited calls or emails asking for your Medicare information, as these could be potential scams. DO NOT, UNDER ANY CIRCUMSTANCES, GIVE YOUR MEDICARE NUMBER TO A TELEMARKETER! Instead, contact your friendly, local insurance agent if you have questions about other plans.
Medicare can be complicated! Let our team of insurance experts help find the best plan for you.
REPLACING A LOST, STOLEN, OR DAMAGED MEDICARE CARD
If your Medicare card is lost, stolen, or damaged, it's important to request a replacement as soon as possible. You can request a new card through your online Medicare.gov account, by calling 1-800-MEDICARE (1-800-633-4227), or by visiting your local Social Security office. Once you request a replacement, your new card will be mailed to you within 30 days.
SCHEDULE A 1-ON-1 MEETING
Ulness Health Insurance Agents are your local dental & vision insurance experts serving Appleton, Neenah, Menasha, and the rest of the Fox Cities. Our team provides free, personalized consultations year-round to help you understand and choose the right plan for your needs and budget. Contact us today to schedule your one-on-one meeting and get started on the path to affordable, comprehensive coverage.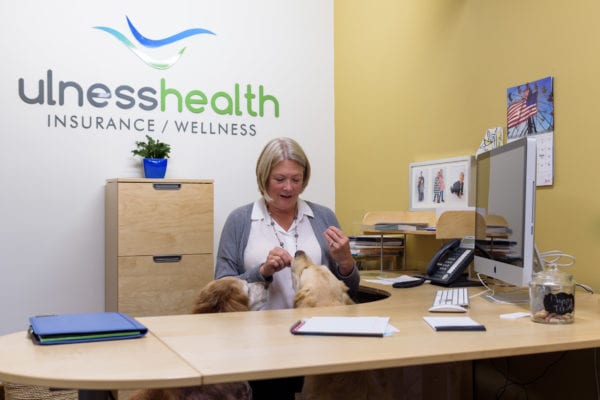 Simply fill out the form below, and we'll get in touch.